A living tradition
A Schroth Cure back then, just like today?
The Hotel Rosenalp here in Allgäu has moved with the times. This becomes clear when you take into account the developments that have been made over the years in this hotel. It began in 1970 when Walter and Rita Schädler opened their doors to their guests, offering the Schroth Cure treatment, with a capacity of 30 beds. 45 years on, the Rosenalp now rated as a 4 Star Superior Hotel, offers modern comforts with a feel-good factor.
The major focal points have remained in the hotel and have since been extensively expanded: The spacious health resort with 150 beds, provides a wide spectrum of various nutritional diets, in order to strengthen their guests, to help them cope with their everyday lives.
The Rosenalp guest can benefit from the nutritional advice and knowledge of our experts and also due to the years of experience here at the Rosenalp: the guests will receive guidance, whatever they choose – a therapeutic Fasting Cure, a body cleansing Schroth Cure, the Metabolic Balance diet and the Logi-Method, or advice for individual specific dietary requirements, suited to their needs.
Well-being and exercise were always a part of the health concept.
Eight years after the initial opening the first spa area was introduced in the Rosenalp, with massages, swimming pool, sauna and beauty treatments. In the mid-90s a complete newly designed well-being area was built and in 2001 an additional fitness studio. The Rosenalp demonstrated innovation: the fitness studio became part of the hotel's concept and this, together with the extensive well-being landscape, has set new standards in Oberstaufen.
Medical health care with a doctor's practice and physiotherapy.
The hotel's own doctor's practice was founded in the mid-90s and has recently been completely renovated. Mrs. Dr Wörner runs the practice today, offering modern facilities in an attractive atmosphere.
One family – with one passion
Rita Schädler, the senior manageress of the Hotel Rosenalp in Allgäu, passed down the responsibility of running the hotel to her children, Barbara Burkhardt & Bernd Schädler. Since then, both have carried on with the same enthusiasm for healthy living, yet with new elan.
The Rosenalp kitchen, which is renowned for its great food, is also supported by the creative son of the manageress, Philipp Burkhart, who works hand in hand with the Head Chef Helmut Beng and his team.
Sonja and Bernd Schädlers' children, Lucas and Franziska, have decided to follow in the footsteps of the family tradition and are happy to be your hosts: Lucas completed his apprenticeship in hospitality management, at a well-known prestigious company and Franziska has every right to be proud of herself, after finishing her further education at A-level standard, successfully.
This is how we live in an environmentally sustainable way
Sustainability in practice at the Rosenalp
LED lighting fixtures in all our rooms and hotel public areas to help sink electricity consumption
Induction cooker to reduce the consumption of fossil fuels
Charging stations for electric cars, the market of the future
Three combined heat and power plants with a power production of 60 kwh for own use (equivalent to covering 40% of our total requirements)
Thermal heat generation of service water and heating water by the waste heat of the    co-generation combined heat and power plant (corresponding to a degree of self-sufficiency of 40%)
Intelligent power optimisation to reduce residual power consumption
Oberstaufen wood chip district heating, to cover the remaining heat requirement
Rainwater collection basin for irrigation of the garden and for some of the toilet facilities
For conversions use of natural materials to the extent possible
In the Rosenalp kitchen: regional partners & suppliers, fish from sustainable fishing, local cheeses, meat from the region, free-range eggs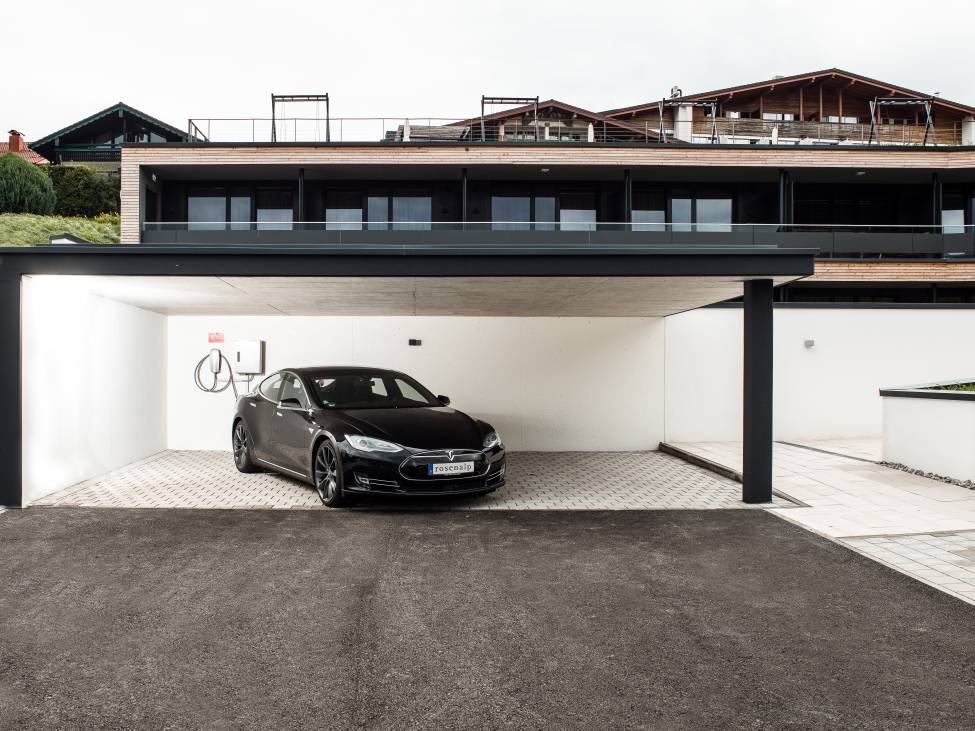 So environmentally conscious
The Rosenalp EV charging station
Will you be travelling by electric vehicle to Hotel Rosenalp in Oberstaufen? We would like to congratulate you on your ecological choice and we would like to support you with our special service: our electric vehicle charging station! We can guarantee that you will be able to recharge your vehicle during your stay here in Allgäu, so that you stay mobile and can discover the beautiful surrounding countryside for yourself. Our charging station is situated in the hotel driveway. For further information please contact our hotel reception.
Changes in the Hotel Rosenalp in Oberstaufen have become a tradition.
Wonderful holiday experiences await the guests of the Rosenalp. With a new state of the art ambience, each area furnished with stylish lines, a newly designed outdoor terrace, restaurant and hotel bar. A panoramic terrace invites you to dine al fresco style and a sunbathing lawn to relax and unwind. Even the kitchen has been modernised and many of the rooms with all the up-to-date TV technology and W-LAN is available throughout the whole hotel.
More space has been created in the physiotherapy department, for an even better service and in the fitness studio you can train on the newest generation of fitness Technogym equipment.
We are also proud to have our very own nutritional advice expert, since 2012. This enables us to be even more flexible and to fulfil our guests' specific wishes.